Segments
Snorky Tries To Slow Down A Clock
This Is The Letter M
M is for Music
Count to the Number 8
Rhino Song
Story Lady "Trevor's First Day At School"
Ernie sings about the letter M
Letter B
Count to the Number 9
Magic Megan "Secret Messages"
Letter W
Wonderful World of Water 2
Letter W Part 2
Whistle Song
Snorky Tries To Invent A Game
Whale Segment
My Clean Floor
Goat Song
Trivia
Despite being on the back cover of the first release, Piggle does not appear.
This is Ernie's first appearance in the show, later appearing in Musical Letters (as a cameo only) & Discover Feelings.
There are 2 versions of this episode. The first (Mark V) has Magic Megan on the cover & the second (Tele Vidics) has a drawing of a car on it.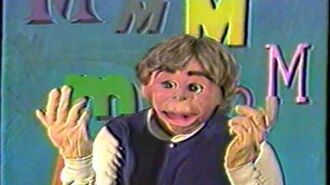 Ad blocker interference detected!
Wikia is a free-to-use site that makes money from advertising. We have a modified experience for viewers using ad blockers

Wikia is not accessible if you've made further modifications. Remove the custom ad blocker rule(s) and the page will load as expected.